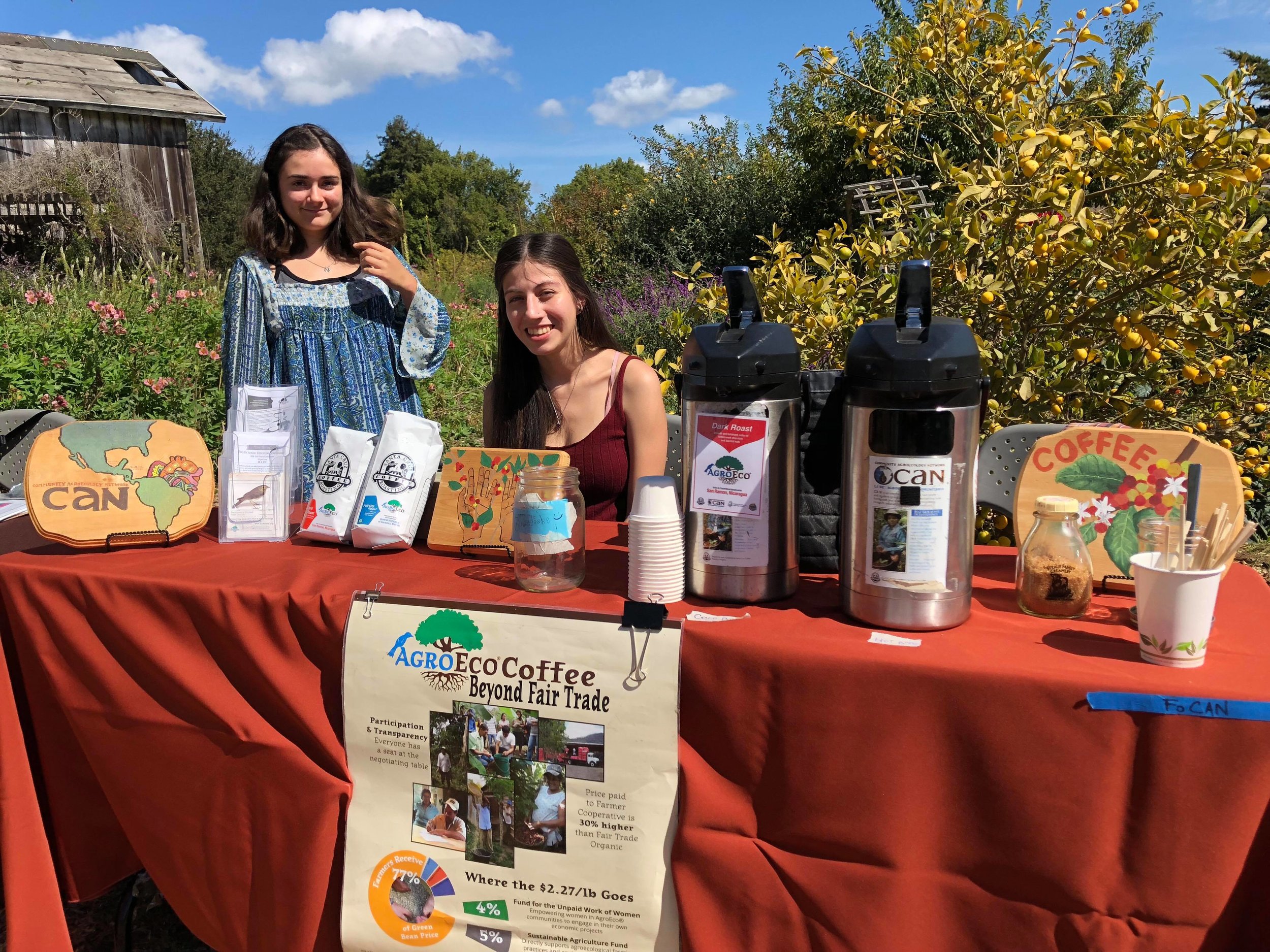 This is a student-led organization committed to creating a safe space for students to engage in topics of social justice, community, fair trade, and agroecological approaches. Through their weekly gatherings and the AgroEco coffee campaign, they connect students and citizens to think critically about our impact on ecology. Throughout the spring, they host the CDR internship, International Intercambio, and tabling AgroEco coffee.
Kresge Garden is the oldest student-run garden on campus and the only garden run by a co-op on campus. Throughout the year the garden is filled with squashes, greens, flowers and more to fill the bellies and hearts of those who work, volunteer, and wander in the garden. The Kresge garden even offers a 2-unit internship which is an introduction to the space, its permaculture practices, and consensus-based model that helps the garden thrive.
Rock and Roll on the Knoll
Rock and Roll on the Knoll provided healthy, organic plant-based foods to our festival-goers at Rock & Roll on the Knoll in 2018.

Past Grantees
Winter 2019
Scientific Slug $958.87
ESLP $9,102.37
Earth Week $6,473.31
Common Ground $26,793.43
PICA $26,145.87
Kresge COOP $23,725.07
Spring 2019
EWB $9,430
Kresge Garden $1,540
PICA $2,950
S-Lab $29,049.94
Winter 2018
C910 Garden $12,380.00
Common Ground $33,801.72
Earth Week $4,650.00
ESLP $22,032.85
FoCAN $20,870
Kresge Garden $34,115.00
Oakes Garden $12,819.20
PICA $24,680.00
Spring 2017
ESLP $750
EWB $5,695
FoCAN $20,160
Common Ground $1,250
Kresge Garden Co-op $26,890
PICA $1,350
S-Lab $26,690.35
Winter 2017
College 9/10 Garden $11,300
Common Ground $24,955.72
Earth Week $4,050
Gaia $6,138.31
Kresge Garden $1,800
PICA $22,600
Stevenson Garden $17,410
Spring 2016
Kresge Garden Co-op $16,700
Kresge Common Ground $8,465
Education for Sustainable Living Program $1,000
Friends of Community Agroecology Network $17,450
Stevenson Garden $10,120
Winter 2016
Rock and Roll on the Knoll $500.00
Gaia Magazine $3,300.00
Common Ground $200.00
C8 Earth Week $3,500.00
PICA $18,000.00
Spring 2015
9/10 Calabasas Garden Project $1,000.00
C9/10 Garden Club $9,250.00
Common Ground $11,000.00
ESLP $700.00
FoCAN $4,500.00
Kresge Garden $10,000.00
PICA $7,865.00
Stevenson Garden $4,800.00
Take Back the Tap $750.00
Winter 2015
BMC $6,000.00
C9/10 Garden Club $4,200.00
Earth Week $2,800.00
ESLP $3,000.00
FoCAN $5,000.00
Gaia Magazine $4,500.00
Kresge Garden $3,000.00
PICA $11,605.00
Stevenson Garden $2,000.00
Take Back the Tap $2,895.00